Petinsurancereview.co.uk (PIR) is a UK pet insurance comparison site and review aggregator launched in September 2017 to give pet owners a voice. Over 4,500 pet owners have visited and left independent reviews of more than 18 pet insurers including household names such as PetPlan, Kennel Club Pet Insurance and Animal Friends Insurance.
Readers visit the site to compare the features and service levels of each insurer to find the best one to meet their pet's needs. There is also a large library of helpful and practical pet advice for owners.
This is a competitive sector with strong competition for the pet insurers' reviews from platforms such as TrustPilot and Reviews.io
The 2020 Covid pandemic has seen a huge rise in the number of pets purchased across the UK. Most owners understand the need to take out pet insurance for their new puppy or kitten, but how to choose the right insurer and the correct policy?
Pet insurance is more complicated than car or home insurance. There are complex limitations of cover to consider and owners want to know that their beloved pet is going to be covered by their insurer if they have an accident, as they get older or develop complex medical needs. This is where Pet Insurance Review come in with reviews from real pet owners to help new owners make an informed decision.
Google's search result pages (SERPs) have become richer in recent years with Google displaying featured snippets, 'People also ask' sections and gold ratings stars in the Organic listings.
Google relies on website schema - which is a type of formatting that tags elements of the page - so that it can understand which text is a review, which text is the name of the person who left it and which number is the score they awarded.
The client felt that they were falling behind competitors on capturing the opportunity available from these rich results.
We took the opportunity to implement the full range of website schema appropriate for each page which include WebSite/WebPage, BreadCrumb and Reviews/AggRating. This required custom coding as a suitable module is not available for the Drupal CMS on which the site is built.
At the same time, we took the opportunity to optimise meta data for key ranking pages and made some speed improvements to the site in the light of Google's Core Web Vitals becoming ranking factors in mid-2021.
Rich snippets: Google is now showing gold stars and the number of reviews for each insurer in the SERPs for each insurer on the site. As the screenshot below shows, this makes the Pet Insurance Review Organic listing stand out from competitors. This has resulted in a higher click through rate.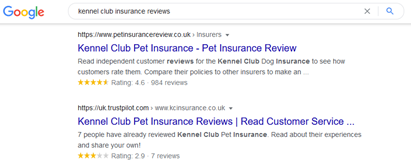 Organic Share of Voice: after one month this had increased to a market-leading 20% (a 13% increase).
Core Web Vitals: all Pet Insurance Review's landing pages are now classified as "good" by Google (for both desktop and mobile devices). This means that each pages has passed all three elements of the Core Web Vitals criteria. These landing pages now boast a Google PageSpeed Insights score of 92% (desktop) and 67% (mobile).
Each of these are each important SEO elements, but the end goal is to increase the Organic traffic to the site. The result is a very impressive 3-fold increase in Organic traffic to the site compared with the same period 12 months earlier.
What does the client say?
equimedia's work to build bespoke applications for all applicable schema means our search engine listings now stand out on the page and are more useful to users. Their work helps pet owners find the site so they can have their say about their insurer and help others make an informed decision.
In such a competitive market the changes have delivered outstanding results!