Following our recent blog about the 'Fake Black Friday' phenomenon, Google has reported more activity over the last 48 hours in the run-up to Black Friday. Uplift was seen on what is being called Golden Wednesday (25th November 2020) as the date coincides with payday dates for many businesses across the country, meaning many were able to access their disposable cash just a couple of days before Black Friday and begin searching for deals.
In terms of the categories experiencing the highest demand, the beauty category has experienced 99% growth in the last 24-48 hours: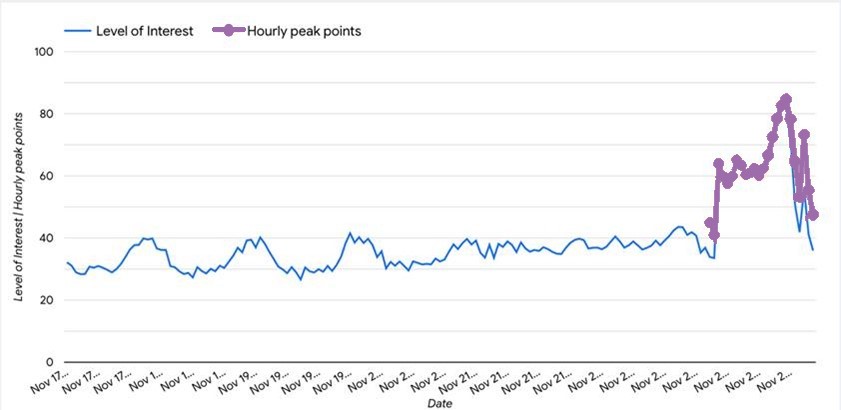 Source: Google
In addition to this, Home Audio demand is up 1066%, Consumer Electronics is up 400%, Singles Day demand is up 150% and Samsung Galaxy Gear is up 50% in the last 48 hours.
Fake Cyber Monday
If you read our last blog then you'll know all about the 'Fake Black Friday' phenomenon – where Google witnessed spikes in Black Friday and promotion related search queries the Friday before the actual 'Black Friday'. Likely because of the number of businesses releasing Black Friday promotions early and UK consumers getting their dates muddled up – thinking that Friday the 20th November was Black Friday instead of the 27th.
Well in a similar turn of events, Google reported seeing the same surge in search demand for Cyber Monday deals Monday 23rd November in what they are of course calling 'Fake Cyber Monday'. Google report that search demand peaked around noon on Monday – a full week ahead of the actual Cyber Monday. So it's likely that (again) that the number of early Cyber Monday promotions being launched by numerous brands (as well as UK consumers getting the wrong day again) is behind this spike in search demand.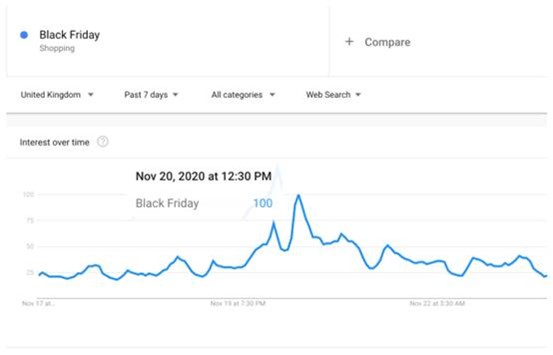 Source: Google
Source: Google
Retail Category Reporting
If you would like to discover more retail insights and opportunities, then you can always use the Retail Category Reporting feature for Search and Shopping campaigns within Google Ads.
This tool provides you with category level performance insights and opportunities for optimisation to drive key performance metrics for retail advertisers, but also to ensure that they remain competitive within key categories.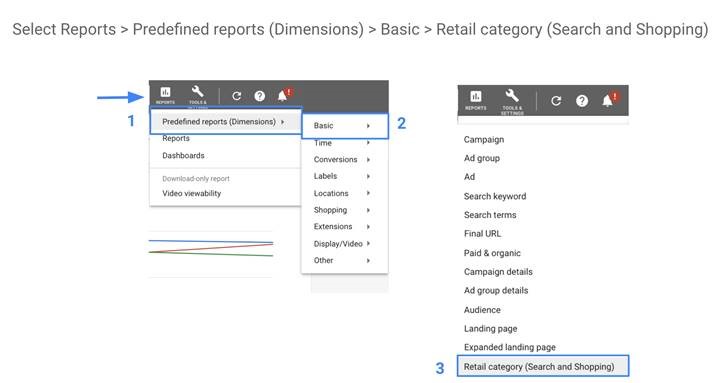 Source: Google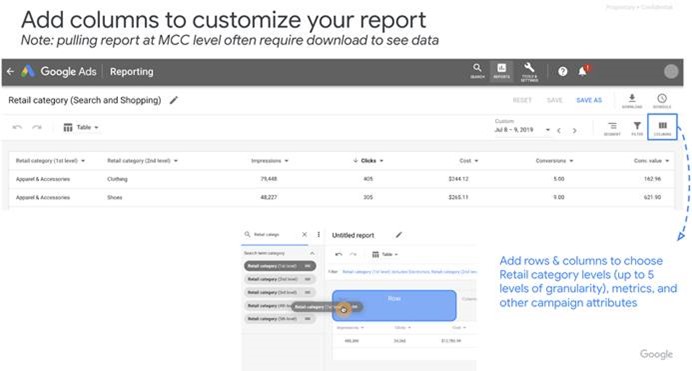 Source: Google
The Retail Category tool will enable retail advertisers to perform three key actions:
Retail advertisers will have a more holistic view at category level, meaning they will be able to get a better understanding of how their investment and performance is allocated by category

Retailer advertisers will also be able to identify key categories where they might be able to optimise performance

Finally, retail advertisers will have a better understanding of where they need to grow click share on key categories by using Click share and Auction Insights
To locate this tool within Google Ads, select Reports -> Basic -> Retail Category (shopping and Search) and then once you open up the tool you can use the drag and drop feature to add your key metrics.
If you need a hand in building a tracking dashboard to stay on top of your in-market search trends, then please get in touch with us and we would be happy to help.