When it comes to financial data and services – things can get complicated very quickly. But, have no fear! We've identified four key challenges you may face throughout the course of your project and how to get around them! 
Main challenges: 
Understanding technical constraints 
Before embarking on a design project it's critical that we conduct some research first. The data gathered here will be invaluable in informing our designs. The most important part here is to: start asking questions 
How is the back-end/system built? 

What are the compliance requirements? 

Is the system due to be upgraded in the future? 

Are there any complex functions? 
It's important to realise that not everything will be possible – more often than not, the things that you have in mind, might not be feasible within the constraints of the system. But, asking these questions as early as possible will help to make sure that you have all of the technical constraints covered, meaning you can then design something that is possible within the system.  
Selling design value: 
It can be notoriously difficult to get across the value of good design in the boardroom of a financial services company. IBM was built on the idea that "Good design means good business" and that sentiment has never been truer. It is especially relevant to fintech and financial services. Financial services are technical beasts by nature and historically, they have let good design fall by the wayside in favour of text and jargon-heavy websites, which have become the norm. We need to challenge this and champion the value of good design. But how can you do this and breakthrough historical precedents? 
Explain Design is not just visual – it's not just how it looks but how it works – make use of user flow maps and data-led journey optimisation analysis pieces to illustrate this point 

Knowledge is respected – citing design best practices and well-regarded design principles will help make the case 

Use data analysis to make them listen – product data, statistics, don't make assumptions; back every assertion up with data 
Focus on your users – Explain that the overarching focus should be on building better experiences for your clients which will translate into increased business and revenue 
Simplifying the complexities 
Fintech is full of complexities, especially in the terminology. We need to try and simplify that for our users to make it more accessible to everyone - financial language doesn't need to be difficult!  
Clear and simple copy is key here. Along with a friendly tone of voice that is reassuring and familiar. A great example of this is Monzo. They have a fantastic guideline on their tone of voice that is made available to the public to make sure they as a business adhere to those standards. https://monzo.com/tone-of-voice/.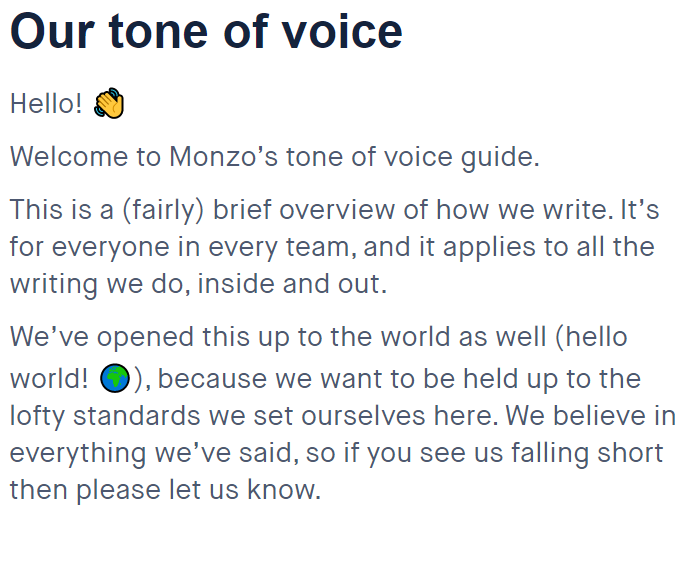 If the way in which you communicate confuses, scares or causes your users to become frustrated, you are likely going to lose their trust. Especially when dealing with technical items or difficult/sensitive subjects. These are make or break moments and users will be quick to determine whether or not you are looking out for their best interests. It is essential that this personality, language and tone of voice is reflected in your product design/build and that it reflects your brand. 
Building consumer trust 
When it comes to people's financial data – trust is paramount and with banks stressing the risks of fraud and theft, users may well be scared of using financial services technologies. With that in mind, it's important to remember that simplifying complexities from the point above does not mean hiding things, but altering the language so it's more digestible.  
Technology often seeks to make everything easy and instantaneous, often encouraging impulses over intentions. Frictionless Design has become more and more prevalent, but there are circumstances where we actually need to give users pause for thought, and we can only do it by giving users the opportunity for a moment of reflection. To accomplish this, we can leverage positive friction by making use of solutions such as PIN number authentication before making a payment or pop-up confirmations to prevent potential errors, and in extreme cases, we can add in roadblocks to help diminish impulsive decisions. 
The above are just a few examples of the challenges that you may face when embarking on designing and building a product for financial services. We live in an age where it has never been easier for customers to switch service providers, so providing well-designed and built technology, and products that meet their needs, simplify the complexities, and build trust is absolutely key to success. If you're considering updating your Financial Services website or optimising your funnel, please get in touch and our team of experts will be more than happy to help!