Christmas is fast approaching, especially for busy marketeers trying to get on top of their campaigns. We've pulled together some top tips to help you maximise your Christmas marketing campaign using Instagram.
Instagram is an ever-changing social media platform, but it's a fun, visual tool to capture the attention of your audience, especially ideal for B2C businesses.
Use Instagram Reels to capture new audiences with short, snappy video content
Video content is everywhere now, and it is here to stay. With Reels celebrating their one-year birthday back in August, it's hard to avoid the short and snappy video content filling up our Instagram feeds. Reels under 10 seconds perform best and are a brilliant way to grab attention.
By uploading Reels you're giving your content a wider audience, but you're also giving yourself new ways to create content to reach your customers. Christmas is the perfect time to dive into Reels!
If you decide to venture into this new way of communicating with your audiences we'd suggest:
Use popular music

that is performing well on other user's Reels. To find this, head to the explore page and spend some time watching Reels to grasp the audio files used. Then shape your content to be able to fit this trend. For Christmas you will of course see popular Christmas songs trending, which gives you an even larger audio library to tap into.

Loosen up and be casual on your Reels

. Whilst you're on social media to represent a brand, you don't need to be formal on Reels. The best Reels are the ones that don't take themselves too seriously and create something relatable or silly.

Pay attention to what is trending,

be it a certain style of video, a tag people are doing or a certain transition they're using. Utilise this and make sure your content follows trends and remains eye catching for your audience.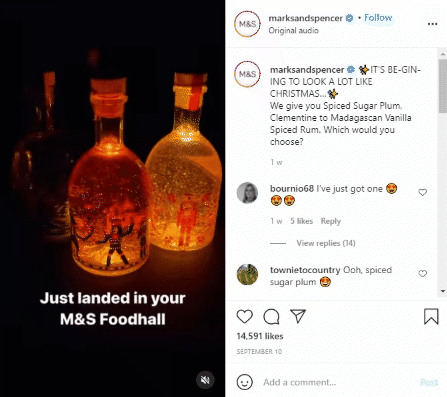 Visual posts to convey your brand message
Instagram is a platform focused on visual content, be it images or videos. This can often be a more difficult way to convey your whole brand message, but it's crucial to increasing awareness, engagement and conversions.
The best Instagram accounts will be the ones which take time to create a succinct visual representation of their brand, using custom images and graphics and a relatable tone of voice. During the Christmas season, you'll be fighting so many other brands for space on the platform, so it's important your content is eye catching, relevant and good enough to capture your audience quickly and direct them to your caption or profile. 
In addition, Instagram's new Grid Pinning feature allows you to pin 3 posts to stay at the top of your profile. So whether you're looking to make your top performing posts more visible, or looking to organically boost Christmas posts, make sure you check out this new feature!
Of course, it's always important to make sure your content fits within your brand guidelines and conveys your message, but the way this is done may need to be adapted for Instagram. If you're creating photo-based content, rather than always featuring your brand colours, consider unifying them with a filter that is applied to all images you share on social media.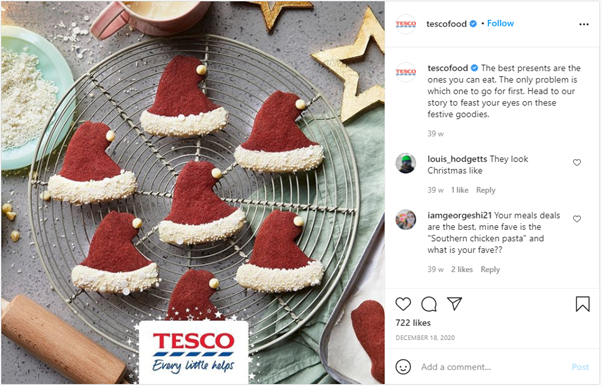 Make your content personal in Instagram Stories
Your Instagram Stories should be treated as the inside, behind the scenes view of your company. They are where your followers will go to find out just a little bit more about you. This could be anything from seeing sneak peaks of you shipping out exciting items, or a 'get to the know the team' series featuring your staff.
Try to create original content on your stories and use this to engage with your audience. You can easily use interactive story features to do things such as: get customer feedback, engage in a Q&A, have a poll for favourite products or share photos of your products other users have posted. You could even host a Christmas quiz! Even if it doesn't seem relevant to your brand, it will be relevant, because it will be adding a personal layer to your brand and inviting a new form of audience engagement. This especially applies over Christmas when your audience may be starting to think about taking a break and are more likely to prefer a more relaxed approach to content. 
Making use of holiday-time engagement can benefit your brand twofold: not only does it increase awareness and low-stakes engagement, but it also offers you the opportunity to do some audience research. This allows your brand to stake out which of your products people would like to see more during the holidays & discount season, and lets you experiment with polls and reels to gather engagement data for the rest of the year as well!
Source: Aldi UK
Engage with your audience, get talking to them within your niche
Instagram is a brilliant platform for engaging with your followers and creating a niche group. There is the chance to really interact with your audience both in the comments of your feed posts and any direct messages they send.
It's important not to ignore interactions on Instagram as these both help your account to grow in the eyes of the Instagram algorithm, but it also makes your brand look more approachable and genuine.
Always lead with questions in your content over CTAs. Ask your users unique questions in the captions of your posts. This could be anything from "what do you want in your stocking this year?" to "where would you like to spend your dream Christmas?" Make these questions relevant to your brand and you will slowly grow your niche community who could then become loyal customers.
Create an AR filter to interact and get people talking about your brand.
Lastly, a little more bespoke tip. Around a Christmas promotion, it could be fun to create your own custom AR filter for users to enjoy. AR filters use augmented reality to interact with the environment around you through your phone camera. On Instagram these are used with the Story function and can link back to your brand account.
You can easily do this using Spark AR Studio and following tutorials online. These filters will link back to your account as the creator and if you capture the right niche, they could be used by thousands of people.
This is where you need to really know your audience and trends to create an AR filter that would really get some use. We would advise taking some time to browse what is currently available and popular to help you create something trending and relevant.
AR filters are a great way to show you don't take yourself too seriously on the platform, whilst also keeping your brand fresh in your audience's mind. You can create specific animations to suit certain times of the year/campaigns you're running to really highlight the festive season, so AR filters are perfect for Christmas!
Source:https://poplar.studio/blog/augmented-reality-christmas-ideas-for-your-ar-campaign/
We hope you've found these tips helpful and if you're interested in other useful resources that'll help you strengthen your Christmas marketing campaigns, you can check out our recent blog 'X top SEM tips to maximise sales this Christmas' or download our latest whitepaper to discover how to help ensure you maximise sales through paid social campaigns.
If you're looking for help on Instagram with your Christmas marketing campaigns, please get in touch.