Each year we stare into our crystal ball and try to predict the digital marketing year ahead. Our Crystal ball was a bit hazy on health matters, so we didn't spot Covid-19 on the horizon for 2020 but we thought we'd look at what we did predict to see how close we were to what unfolded in the digital world and given ourselves a grade for our accuracy!  
Prediction 1: Addressable TV serves personal ads
ITV's 'Planet V' launched on the 5th October 2020, dubbed a "new programmatic ecosystem for television by ITV. Whilst the platform is currently offering ITV inventory only, there is an "open invitation" for Channel 4 and Sky to join, too. As it's still early days for Planet V, it will be late in 2021 before we can understand the full impact of the platform and how TV buying has shifted as a result of Planet V's introduction. We've given this prediction a grade C, though this would be higher if Planet V had launched earlier in 2020.
Grade: C
Prediction 2: Websites will be personalised to the user
We predicted that 2020 would be a big year for personalisation. We know execs believe in it, we know users want it, but the challenge was always going to be data consolidation and having the technology to make it happen. These challenges have not gone away and continue to be a barrier to progress. This means that although website personalisation remains an ambition for many businesses, it hasn't moved too far beyond that. COVID has no doubt played a factor in delays as businesses look to protect cashflows rather than investing in new innovations.
As we enter a more hopeful 2021, we can be sure personalisation will be back on the agenda – especially for Direct to Consumer (D2C) businesses which have seen growth in 2020 and look to further improve their customers eCommerce experiences by offering a more tailored service. Key to progress in 2021 will be solving the data issues and misconceptions. We need to do our part to show businesses that website personalisation isn't as big a task and as unattainable as it seems. Many will be closer than they think…
Grade: C (We knew it would be important, but the Covid factor delayed things)
Prediction 3: Data will be key to personalisation
Despite slow progress overall, an increasing number of businesses now offer their customers a personalised experience which is enabled through new analytics platforms and tracking tools that allow businesses to track their customer's preferences. Delivering a more tailored experience on-site helps improve customer loyalty and brand advocacy. We know that many businesses are beginning to invest more into personalisation and upgrading their analytics platforms and for this reason, we are giving ourselves an A here (an easy grade to achieve as it's obvious you need more customer data to personalise customer experience!).
Grade: A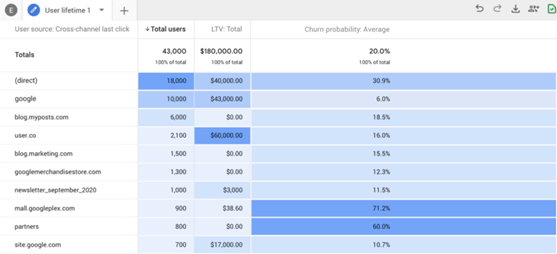 This table shows the lifetime value of a business's users within Google Analytics 4, the latest Analytics platform from Google which offers more ways of tracking and viewing data. (Source: SearchEngine Land)
Prediction 4: PPC Automation will take over
Most of our client accounts are exclusively using smart bidding solutions as well as other automation features (some of which have only become available in the last year). For us, this has come as a result of testing these solutions against manual alternatives, and with the ever-growing number of signals that need to be analysed to make sure an account is the best it can be, it quickly became apparent that machine learning is required to make the most of all the relevant data; and the results speak for themself.
PPC Professionals are now freed up to spend more time working with clients; understanding their business needs and focusing on higher level strategy development and deployment. Some feared that an increase in automation would leave us with less to do and less value to bring to the table; the truth is that we are as busy as ever and are now able to add value in other areas. For these reasons, we are giving this prediction an A.
Grade: A
Prediction 5: Sites will need to be optimised for voice search
The explosion in the use of smart speakers has driven the adoption of voice search, however as we explain in our 2021 predictions usage has steadily been flat to declining throughout the year as users are clearly not convinced by the Customer Experience. We are awaiting stats for 2020, but in a ComScore survey in 2019, over 50% of shoppers used voice search to research a potential online purchase and it will be interesting to see whether this has declined, too.
When optimising for voice search, as a guide use Google's increasing use of 'Featured Snippet', 'People also ask' or 'FAQ' sections of the search results page (SERP).  If Google is selecting your answer for any of these three sections, then Google is likely to select your answer as the audio text when someone makes a related voice search.  
So, while optimising for voice search is still a good and necessary practice for businesses, it seems that voice search has not taken off like we thought it would in 2020 and for that reason we are grading this prediction a C.
Grade: C
Prediction 6: Descriptive animations will save site speed
Another of our 2020 predictions was that descriptive animations that tell the brand story would be more prevalent in 2020 – we were right! If we look across our client base, we implemented a variety of SVG animations that help pages load fast, and tell an engaging visual story. In fact, if you look at our new website, we took this on board ourselves, putting a simple particle effect animation on the homepage, and including a slick animation to explain our new direct to consumer solution Equi-Connect. We know page speed will be key as Google Core Web Vitals scores become more important for organic rankings, so we wouldn't be surprised if this trend continues in 2021. Other interactive design trends such as micro-interactions and augmented reality for iOS are likely to gain traction in 2021, too.
Grade: A
Prediction 7: The rise of video will continue
Video has been a hot topic in recent years so we believed it was obvious that this would take off in 2020 and we weren't wrong. IAB UK's H1 Ad Spend updated said that video ad spends grew by 5.7% in the first 6 months of 2020. The IAB conducted some further research around this, specifically looking at video ad spend trends during lockdown. They found that almost 1 in 3 (32%) increased spend on online video advertising in lockdown. Additionally, 2020 Touchpoints told us that Live Streaming of Non-Broadcast Content more than doubled during lockdown to 12% reach (18% amongst 35-54s where it has increased the most). It's safe to say we gave ourselves an A on this one. 
Grade: A
Prediction 8: Shopping directly on social media will rise
At the start of 2020 we predicted more customers would make spontaneous purchases on social media and would be able to explore a wide range of products on social media apps such as Instagram as opposed to walking down the high street. Little did we know how the year would play out and how we would in fact, no longer be able to go to the high street shops for so much of the year. It was down to online tools to step up and replace retail stores by supplying us our product needs online.
It's hard to know how much revenue has increased by social media shops, but we can certainly see platforms really pushing this feature. In a recent update, Instagram have changed their app layout by replacing the location of the notification button with a shopping option. This clever move has caused many users to accidentally click onto the shopping tab out of habit and potentially make a purchase as a result. We can assume more platforms will follow in making their interfaces more shopping focused, but for now we're going to give this prediction a B.
Grade: B
                                 Instagram Shops (Source: Marketing Week)
Prediction 9: Zero click searches won't be all bad
We want our customers and potential customers to find what they need about us with the minimum of friction. For many years, Google has made it simple for customer to find out our opening hours, our address and contact details in the 'Google My Business' panel (or for larger businesses details of the CEO's name and the current share price in the Knowledge Panel). 
In 2020, Google gave business owners the ability to add a message in this panel to customers about their COVID preparedness at each location (including if it was temporarily shut).  It has recently enabled business owners to curate customer FAQs in this panel, too.
Zero click searches account for over 50% of all web searches and are certainly not all bad if you optimise your free marketing assets correctly. We strongly recommend that all businesses take the time to optimise their Google My Business listings to provide their customers with the correct information. You can also use it to promote your products, events and blogs. The space is free and has a strong impact on your brand and provides a lot of information to Google which impacts SEO.
Grade: A
Prediction 10: Google and Facebook will rule lead generation
Both tech giants have increased and improved their lead generation features and ad types. Paid Search of course will always be a front runner in generating leads and the introduction of YouTube Form Fill Ads and Facebook Lead Ads have been certainly welcomed. However, it would be difficult to say Google and Facebook alone rule lead generation without also mentioning LinkedIn and of course more traditional lead generation techniques and for this reason we are grading this prediction a C.
Grade: C
Prediction 11: Amazon will provide revenue growth
Of course, this was an obvious one, however, what wasn't predicted was just how much that growth would be, not only for Amazon but brands utilising the platform. Online retail grew massively in lockdown, and Amazon reaped huge profits. At the end of July, the company announced that it had doubled its quarterly profits to $5.2bn (£3.95bn), compared with $2.6bn at the same point in 2019. Net sales had risen by 40%. Not only can brands sell their products via Amazon, but Amazon have also innovated hugely and so unsurprisingly this prediction receives an A.
Grade: A
Prediction 12: Amazon will own valuable insight
We predicted that Amazon would own valuable insight as companies were encouraged to increase advertising budgets in Amazon Marketing Services as they rolled out new tools and programmes to help advertisers. Amazon collect millions of pieces of information about their customers and consumers across their shopping platform and video streaming platform Amazon Prime, which can help advertisers who want to get a better understanding of their audience and allow them to target more niche audiences.
This is another prediction that is likely to continue into 2021 as Amazon increase the ways they collect the data and the tools and programmes that can utilise this data.                                             
Grade: A
Prediction 13: Amazon Prime is on the up
Amazon Prime Video is growing at a fast pace, and means Amazon is set to disrupt and challenge significantly in the Addressable TV space we talked about earlier. The 2020 prediction 'Prime is on the way up' came to be true and this will probably continue in the coming years. Off the back of this success more and more advertisers will look to leverage Amazon marketplace as well as leverage Amazon data within their Programmatic buying strategies.
Grade: A
Final Grade
2020 has been one of the most unexpected years on record. The Coronavirus pandemic had an enormous effect on economies and businesses around the world, changing the way many of us work, entertain ourselves and shop. So, all things considered, we believe we did a good job with our 2020 digital marketing predictions, achieving seven A's, one B and five C's, giving our 2020 Predictions a 'B' overall. Fair?
If you'd like us to help you maximise your digital presence, activities or sales in 2021, please get in touch! We'd love to talk to you.