Every Black Friday, Cyber Monday and Christmas, consumers search online for a bargain, and never more so than this year! This offers online retailers, who get their digital marketing right, a huge opportunity to achieve great sales figures this year and ensure a dismal 2020 ends on a positive note.
The shopping frenzy begins at the beginning of November and runs all the way to the January sales in the New Year, so if you're struggling to get your campaigns up and running or performing the way you want them to, don't worry, you have time to fix this, and we can help!
We understand paid search technology is constantly evolving with new features and tools being released every month, so to help, we've put together our 6 top paid search tips that we know will help you boost sales across Black Friday, Cyber Monday, Christmas and beyond!
1. Use the 'Rising Retail Categories Tool'
Google's Rising Retail Categories Tool will help you to identify rising retail product categories, the location of these trends and even the search queries being entered into Google. This can help inform your campaign and keyword planning and targeting. Watch the trends, set new targeted ads live for your products that are on the rise, and win more sales.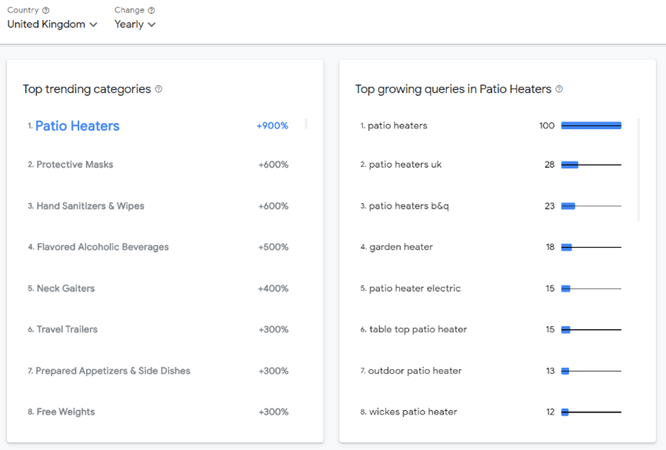 Source: Rising Retail Categories Tool
2. Use the recommendations tab and make sure your campaigns are set up for success
The recommendations page is another great tool that you can use to help identify quick-wins for your account at a click of a button. This Google Ads feature gives you the top account recommendations to help improve your account. From ad copy suggestions, extensions and new audience associations, the suggestions will identify new opportunities for you. Navigate to the Recommendations tab in the Google Ads interface to see the easy one-click changes you can make. If you want help adopting the newest features and setting up your account for the peak season, get in touch and we'd be happy to help!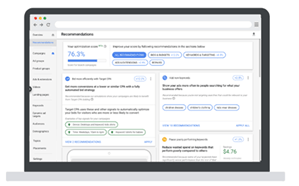 Source: Google
3. Ensure your Smart bidding campaigns are set up and you have enough budget to take advantage of demand
Have you switched your shopping campaigns are to smart shopping campaigns? Google reports that switching your campaign type can deliver a 30% increase in conversions and smart shopping is a fantastic way to go after the customers you want. To find out more about smart bidding and smart shopping best practices read our blog here.
With online shopping demand this Christmas set to be bigger than ever, set up your campaigns for success by ensuring you are not limited by budget. Making sure you can respond to the growth in online shopping demand will be crucial to achieving maximum sales!
You will want to ensure your smart bidding strategies are optimised to go after these additional sales, too. Relaxing your targets in your Target CPA and Target ROAS strategies will allow your campaigns to reach a greater number of customers and drive you the return you're looking for in the number of sales you achieve this Christmas.
4. Use Google's Performance Planner
The Performance Planner tool allows you to create plans and forecast the effect your proposed changes might have on your campaign performance and your key KPIs. The benefits to using the tool are that it provides suggestions on how to boost your campaign performance without additional budget, and helps you optimise your campaigns by seeing possible results without actually setting your changes live. Google also released a new feature which allows you to forecast the effect of changes to shopping campaigns (previously only in beta), which is really useful.
5. Use Price and Promotion Extensions
Price and promotion extensions allow you to show off key products and any special price deals discounts or offers. You can change them as often as you like to encourage repeat site visits and drive additional sales, and they can help your products and promotions stand out in a crowded online marketplace. Click below find out more detail about how to use about Price and Promotion Extensions:
6. Create urgency with the Countdown Feature
The Countdown Feature within Google Ads allows you to add a live countdown to your ad text, counting down by day, hours and minutes left to take advantage of your latest amazing offer. For example, if your ad text reads "Hurry 50% off ends in four hours" then three and half hours later it would read "Hurry 50% off ends in 30 minutes".
Source: Google Ads
Countdowns can be added to text ads, dynamic search ads and responsive search ads and can be set to count down to a set time but adjusted to the time zone that the person is searching in. To find out more about the countdown feature click here.
Stay ahead of the competition…
While we're on the subject of maximising your seasonal sales, here are a few extra golden nuggets to help you generate lots of organic search traffic, too!
Try to publish your seasonal organic traffic landing page early (don't just turn it on when your Black Friday or Christmas campaigns launch). It will take 2 – 5 weeks for Google to rank it so think ahead.  Additionally, have a plan what to do with the page when the campaign is over as just turning it off might not be the best idea.

Keep the URLs the same each year and leave the date out.

Use the home page to explain to Google and shoppers that your special seasonal landing page is important. You could link to it from the home page in a big shouty splash!

Images are important but cannot be read by Google so if possible try not to put important text in an image.
If you would like our help improving your current strategy to maximise sales in the run up to Black Friday, Cyber Monday and Christmas then please get in touch. We'd love to help you have the best Christmas ever!