Google recently announced that they are working on a new Google Analytics (GA), known as 'Google Analytics 4'. (interested but you are not an analytics geek? – take a look at the offer from our Web Analytics team at the bottom of this post!)
Google Analytics 4 (GA4) will utilise a more advanced machine learning model that will provide better and more useful insights into customers using all types of devices with the aim of helping businesses increase their longterm ROI.
What is attractive about this new generation of GA is that it offers a leap forward in functionality whilst maintaining the look and feel of the GA that web marketers are so familiar with.  This interface has endured because it's simple to use and provides analysts and n-analyst marketers alike the sophisticated metrics they need to understand how visitors are using their site.
There will be high expectations for GA4 once it is officially released, so we thought we'd take you through a few of the new features that it promises to offer.
Automatic Alerts
One of the new features of GA4 is that it will automatically notify you of any significant changes to trends in your data so you can be agile in the way you deploy your marketing strategy. For example, you will receive a notification if there are changes in product demand based on new customer needs.
According to Google, GA4 can also calculate 'churn probability', which will help businesses plan investment in retaining customers more efficiently.
Dashboard showing the new engagement metric of "Churn Probability" Source: Google
New integrations across Google's marketing products
GA4 will have a deeper integration with Google marketing products including Google Ads, YouTube and Google Search which offers benefits. For example, marketers will now be able to create new audiences in Google Ads, based on GA4 data enabling you to reach customers that are trying to engage with your business and offer them a more useful and relevant experience.
Whilst making integration easier, it further binds marketers into the Google eco-system.
Google makes no mention of whether it has plans to monetize GA4, though we anticipate that it will maintain the model of a free-to-use version that is suitable for most websites and the paid for GA360 for large websites.

Dashboard with an integrated view of Google channels. Source: Google
Customer-centric measurement instead of platform/device measurement
GA4 brings a welcome move away from the over-used metric of "bounce rate" (and its cousin 'average bounce rate') which often provided little meaning out of context.
GA4 instead, gives you more informative customer-centric measurements.  
The much-simplified reporting allows you to find marketing data insights associated with the stage of the customer journey that you are interested in. Google say this is to give you a much more comprehensive understanding of your customers' interactions through their lifecycle, enabling you to make agile, insight-led decisions to retain and win new customers.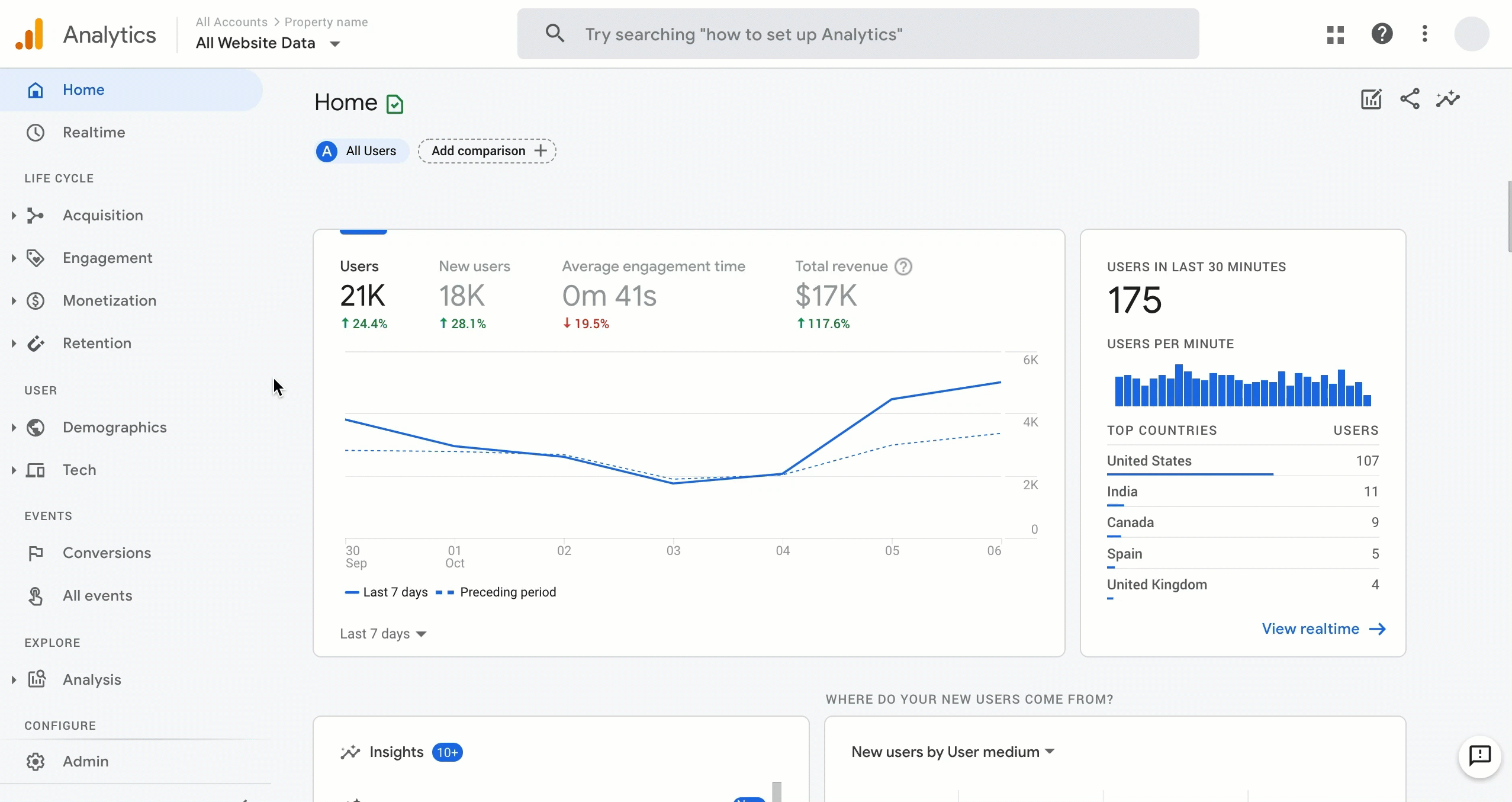 Animation of the GA4 dashboard which has the familiar Google Analytics look and feel. Source: Google
What all this means for GA users in the future is better insights, that are more accessible, with the benefit of built-in machine learning to help you make more informed decisions based upon information and data that is specific to your business. It will give you access to cross-platform information so that you can form a more holistic view of how users interact with your website and apps across devices, and richer data means better decisions and more effective marketing.
GA4 Beta roll out
GA4 is still in beta and is rolling out currently. To see if it has rolled out to your Google Analytics account, visit the admin page and under Property check to see if there is a linked called "Upgrade to GA".   If it is present, we recommend setting up a parallel view for GA4. This allows the view to start collecting data from your website.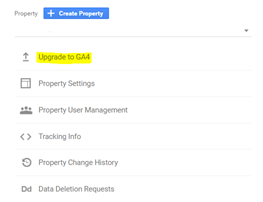 Now go ahead and explore the features available.
However, we strongly recommend that you stick with your tried and tested view for at least the next few months. When GA4 comes out of beta, probably in Spring 2021, you will then be ready to make the most of the new features having explored the features now. The decision when to move over is entirely yours.  Google has made no mention of sunsetting the current version of GA so don't worry, it is likely to be around for the foreseeable future.
Need some help?
The equimedia Web Analytics team is here to help and would love to show you how to make the most of the GA4 upgrade. Just get in touch!