Online sales growth for many beauty retailers has been fabulous in 2020. Those brands that have delivered what their customers need online have seen sales soar. FeelUnique.com has reported a record-breaking 2020, growing sales by 26% in the year to March 2021 delivering sales of £103.5M through its ecommerce site. (Internet Retailing.net). They report that expanding their range and improving their user experience has made the difference and helped them achieve great sales growth and explained that creating a reward programme and improving their multi-media content has engaged users and delivered repeat sales.
Many other brands have been working hard to engage potential clients in social media and YouTube and worked hard to nurture each new customer, but have they thought of everything they could do?
As a sector reaping the rewards of the consumer shift online for inspiration and necessary beauty products, have they generated sales as cost efficiently as they could?
What are the crucial Search Engine Optimisation elements that deliver increased sales for little investment?
Great content in social channels, efficient paid search campaigns and paid ad campaigns and fabulous CRM engagement campaigns are not the only digital techniques a brand needs to get right. To increase return on your overall marketing spend it's crucial to make sure your site ranks well for key generic beauty searches in Google so that your brand maximises the organic traffic arriving on site. For free! (Once your SEO is sorted out!)
There are a few crucial things to get right to ensure your site ranks well for core beauty searches and you get more than your fair share of organic search traffic. These can be broken down into on-page optimisations, technical optimisations and off-site optimisations.
Before we go into details, let's remind ourselves of the SEO adage: ecommerce website should be created for your shoppers but optimised for Google.  An outstanding shopper experience is at the heart of great ecommerce SEO in 2021.
On page optimisations
Make your main content the very best on the web.
Ensure your product category and product landing pages are as uncluttered, clear and easy to digest and understand as possible. Think about what extra information you can add about each product that is useful for your customers when they are deciding what to purchase. This helps you stand out to Google compared with competitor beauty retailers selling similar or identical products. This will mean your pages should rank better than a competitor with confusing, cluttered pages and standard manufacturer product descriptions. It will also mean your pages will convert better and deliver more sales.
Compare these 2 landing pages below, for gel nail polish. The one on the right is clear, easy to understand, far more engaging for users and much easier for Google to understand what the page is about. This matters, as it is likely to rank more highly in search results than the page on the left.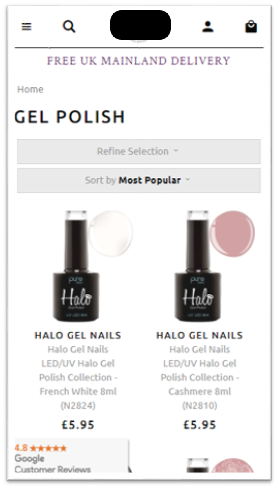 Showcase your expertise on separate content hubs
Many sites do a good job of creating blogs on topics that will appeal to their customers. The key is to focus on the quality, not the quantity of these blog posts. A blog post is only useful if a customer gains enjoyment and information from reading it. Never write a blog post only 'for Google'.
Once you have a few high-quality posts, make sure that they are organised into logical content hubs around a topic. In the example pages above, it might be 'Hand and nail care'. Link these articles to your relevant category and product pages to encourage readers to visit them and to help Google understand that you have lots of expertise in this product area.
Technical Optimisation 
There are technical site optimisations that can have a big impact on organic search rankings and traffic to site. If your site looks great, that's fabulous, but the right technical signposts need to be in place so Google can read and understand the site structure, rank it well, and users can find it easily.
Make sure you make the most of internal linking so that Google can understand related content and Google and customers can intuitively navigate around the site.
Ensure your site addresses Google's Core Web Vitals
In June 2021, Google will start to use Core Web Vitals as a small ranking factor. These are technical factors that include the speed with which a page loads and how cleanly it loads without the content jumping around. Think of these positively and consider that it is Google guiding you to build a better web experience for your customers.
Beauty is about aesthetics. So keep a balance. It is self-defeating to create a very fast website by using small, poor quality product images. This might give a good score for Core Web Vitals but will disappoint your customers.  
Off site optimisation
Once your site has great, easy to read pages, organised content improving the customer journey and demonstrating authority through your expertise, with low page load speeds you can work on earning endorsements from external influencers or earning links.
Link Earning, reviews and optimising other assets
Link earning (not link building) is hard work and takes time, but it is worth the effort! Endorsements from beauty industry titles or influencers can make a real impact on your authority and trust signal to users and Google alike, boosting rankings. This is not buying links but earning them through editorial coverage and genuine recommendations.
Don't neglect reviews either. Positive customer reviews (for example Google reviews or Trustpilot reviews) can help build your trust and is another signal Google will take note of. And making sure all the other fabulous content you're sharing works hard for you is crucial, too.
Is investment in Search Engine Optimisation worth it?
Of course we would say yes, but really, it is! 
Paid media campaigns are expensive and if your profit margins on sales are small it can be hard to achieve a positive return on marketing investment, but ensuring your site has great signals for Google can really make a difference to your organic site traffic.
We recently completed an SEO improvement project for a well-known high street magazine and stationery retailer and on-page optimisations alone delivered a 15% increase in product page traffic year and year, and a massive 35% increase in organic search sales revenue.   
When we work with our clients on SEO, we use our expertise in Google whilst focussing on your customers' needs. We speak in a language that you understand, even for some of the deeper technical aspects of SEO. This is what produces excellent long-term ranking and sales growth.
If you'd like us to help you improve your organic traffic and sales revenue, please get in touch – we'd love to help.