On Wednesday 16th March Google announced that Universal Analytics properties will stop collecting hit data from July 2023. If you do not already have a Google Analytics 4 account running alongside Universal Analytics, now is the time. 
What is the change? 
On the 16th of March 2022 Google announced the sunsetting of Universal Analytics, often referred as UA or GA3, with the deadline for last hit processing being the 1st of July 2023 for standard accounts and the 1st of October for Analytics 360 accounts. 
This affirms the end of an era for Universal Analytics, a tool widely used by marketers and analysts for the last 10 years, as Google shifts its focus to a new standard of privacy first, event-based tracking. You can find out more about GA4 in our blog here.
What this means for you
This news means that if you do not already have a Google Analytics 4 account running alongside your Universal Analytics, you will need to act fast. UA users have 15 months to make the move to GA4 and a further 6 months to access historical data from their account, so it's important that you make the move to the new platform as soon as possible, in order to capture enough historical data for a year-on-year analysis.
GA4's data collection model differs from its previous iterations, due to its change to event-based data collection, removing the need for the different hit types GA3 relied on, which will require some consideration and planning.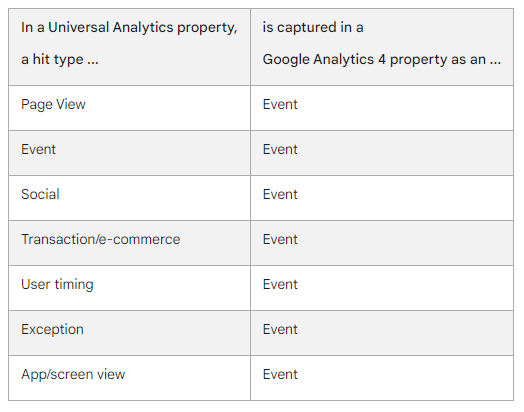 How to prepare for the move
In order to prepare for the sunsetting of Universal Analytics you will need to move into a GA4 account as quickly and effectively as possible. Below are four of the key steps Equimedia recommend for this move:
Evaluate your existing Universal Analytics Account -

Review data collected in your Universal Analytics account (events, custom dimensions and metrics, goals, etc.) and examine what is currently in place, what you will need to carry over, and what is no longer relevant in your UA account. At Equimedia, we take on extensive Google Analytics Audits with clients to better understand your requirements and translate them into tangible solutions.
Plan out implementation -

After examining existing data, plan out your implementation by reviewing what events can be

automatically collected

by GA4, what

Recommended Events

can be implemented on your site, and what events will need to be recreated at a custom level.
Implement the tracking changes -

After reviewing what you will and won't need to carry over into your new GA4 account you will need to implement the changes. Event tracking is no longer fixed to the existing Category, Action, and Label structure, and GA users can now attach up to 25 custom parameters to each event, alongside some

automatically collected parameters

.

However, it's important to consider which additional parameters you will actually need to report on as there is a limit of 50 Event-scoped custom dimensions which can be queried in the GA4 interface. 
Consider your training needs -

Although GA4 carries some resemblances to its predecessor, there are some big differences in how data is reported. At Equimedia we can provide one-to-one training with your team in order to get them up to speed with GA4 and begin using the tool with their best foot forward.
Need help moving your Universal Analytics account into GA4? The Equimedia Web Analytics team is here to help you at every step of the way, from the initial GA Audit stage through to implementing some of GA4's new custom reporting capabilities.
We have three tiers of GA4 implementations for you to choose from, ranging from: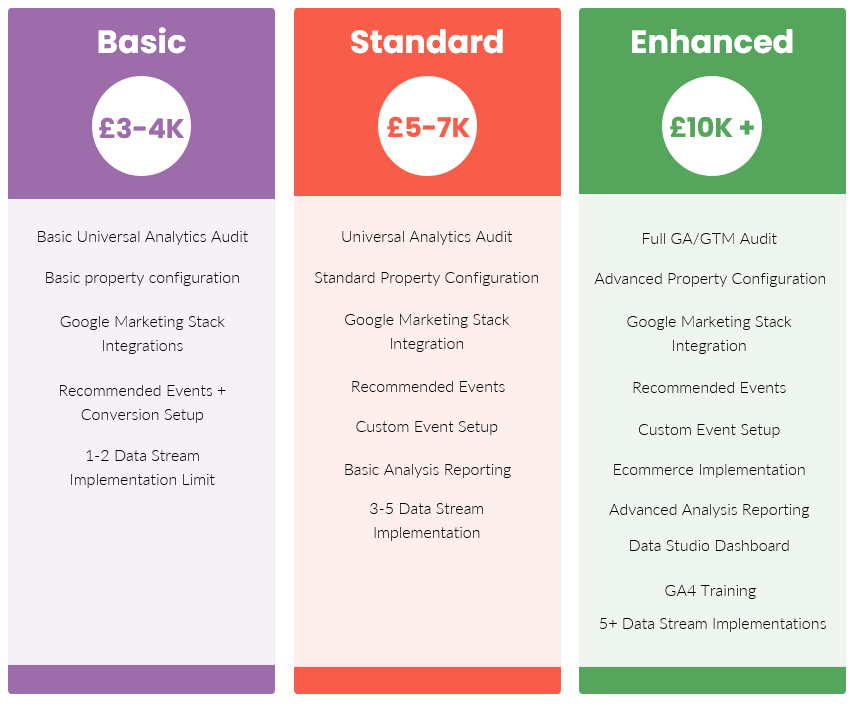 Prices are an estimate and will be dependent on project scope as each implementation will be tailored to your specific needs. Get in touch with one of our team to find the best fit for you!