There is always a danger in making assumptions, especially when it comes to your audience.
It can be all too easy to presume that your core audience is those people directly affected by your cause, but there are likely to be other segments to your audience strategy that you haven't yet thought about. What's more, your key donors may not be the ones that tend to engage with your content the most.
By delving into the data you can uncover valuable insights that will help to enhance the success of your campaigns while tapping into new audiences who have a genuine appetite to learn more.
In this blog post you can learn how to find the right audience and tailor the content to engage with the people who matter.
Mine your own data
Never underestimate the power of first-party (customer) data - it still amazes us how many organisations collect data without utilising it to its full potential. Basic CRM software will reveal information about your existing supporters, such as age ranges, geographic location, when and how they donate and any triggers - such as whether seasonal events or a particular campaign helped drive a purchasing decision. Once you've used first-party data to get an understanding of your existing supporters, you can then go on to probe deeper using third-party tools such as TGI.
Google Analytics and Facebook Insights are two other tools that can be used for gathering insight about your fans and users, giving you the ability to learn and adapt your campaigns accordingly. The Audience tab on Google Analytics provides data on device usage so you can see how people are accessing your content, and also provides details on the user's age, gender, location and other insights. You can also break this down into which page they landed on and whether they completed any specific goal.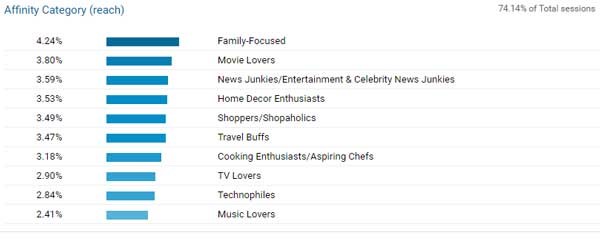 Another option is to conduct a simple survey where you ask your audience specific questions to help you learn more about their interests, current situation, frustrations, as well as drilling down into how they prefer to consume content.
Segment your audience
Once you discover how people find your website, what content they digest while onsite, and other key insights, you will be in a better position to start segmenting your audience and creating user personas. You can use this handy template to get you started.
The truth is there are likely to be a number of different audience segments that you can identify and prioritise. This will normally be tiered on factors such as:
Attitudes towards your cause - are they actively interested or indifferent to your cause?
Stage in life - are they approaching a certain age when your cause will become relevant?
Lifestyle - do they inhabit certain traits or characteristics that would make them more likely to support your cause?
Other influencing variables - don't just think of your charity in silo. While not everyone will be interested in supporting a particular topic, it may be that they are more receptive to other areas that are related or loosely associated, giving you an opening to engage.
With these segments in place, you can then start to map their interests against any conflicts and solutions that may help to motivate them to engage with your content.
Identifying the most suitable networks
Knowing which social channels are best suited to your brand and how to create content that resonates with them is fundamental.
The fact one of your key personas are males under the age of 30 might provide a great starting point but you need to be able to reach them in the places that they are most active and this requires a bit of social know-how.
Facebook and Twitter are among the most popular networks for charities to sign up to, which should come as little surprise since Twitter has 320 million active users worldwide, while Facebook has over 1.71 billion.
However, there is a wide range of social networks to choose from which often are often overlooked and may better engage your audience:
YouTube has around 1 billion active users and video should be considered a key focus for all charities in 2017.
Whatsapp has reached 900 million users and many charities are finding results simply by playing to the conventions of the channel.
LinkedIn is often pigeon-holed as a recruitment tool, but given its 450 million users it shouldn't be overlooked - plus, with the news last year that Microsoft have bought out the platform, we can expect some exciting innovations from LinkedIn.
Instagram is growing swiftly and has now overtaken Twitter with 400 million users, plus given its synchronisation with Facebook, it's a platform that all brands can easily utilise.
Snapchat has risen from zero to hero in record speed and has 100 million users so should definitely be a consideration in your marketing mix.
Pinterest's 100 million users are there for one purpose - shopping - so if you can engage them whilst in the spending mood you could be in for some great returns.
Tumblr is another one to watch, given the growing momentum of micro-bloggers and the site's 230 million users.
Once you've identified the key channels, you will need to develop an understanding of what interests your audience, and for this, you might find it useful to subscribe to consumer market reports. It can also be hugely beneficial to see what your audience is talking about and what is being discussed in your sector by employing the use of a social listening tool, which will help pull out these insights for you.
It's essential that you create content suitable for the chosen platform and ensure your content has value for your audience. Try not to spread yourself too thinly by juggling content across too many networks - focus on a few chosen networks and concentrate on doing them well.
The Benefits of Advertising
With organic reach in decline, advertising on social networks is fast becoming the norm and also presents a fantastic opportunity to build communities of followers and raise awareness at a faster pace.
However, relatively few marketers have realised the capabilities of advertising on other social media networks outside of Facebook, meaning there is potential for charities to cut through the noise and actively engage new and existing audiences.
Ads appear within the user's newsfeed and become part of their network experience. Usually, the ads can be targeted using topics such as interests, geography or gender to make sure ads are more relevant and part of the discovery process.
Over the years Twitter has helped not-for-profits with a range of offerings including crisis relief management and account verification, and now Twitter's Ads for Good program (which is by invitation only) gives charities using Twitter's managed service the opportunity to be rewarded by amplifying their message.
Capturing the viewing experience
Charity and TV advertising has traditionally been a popular combination but with live TV viewing in decline and the convenience of being able to skip commercials and fast forward, there is a growing need to get smart and reach your audience in alternative ways.
Programmatic TV should be a definite consideration and buying technologies such as Sky AdSmart enables brands of all sizes to target ads to different households, even when they are viewing the same programme, ensuring your ad is seen by a relevant audience based on your selected criteria. While this is a more costly way of buying TV placements, it can be accompanied by other digital activities designed to direct viewers to online channels so you can better track the performance of your campaign by analysing cause and effect.
You can also use a tool such as wywy to cleverly recapture the attention of a distracted TV viewer by engaging with them on a second screen, therefore maximising the reach and effectiveness of your campaigns.
Analysing your efforts
To understand what your audience finds most interesting from you, there needs to be constant analysis of the success (or ineffectiveness) of the content produced. Through testing and analysis, you will be able to understand what your audience needs and how they behave online.
It's important to decide what your goals are and what you want to measure so that you focus the campaign on achieving this. You can also take advantage of the in-depth analytics offered on social networks that look at everything from likes to comments to help you refine your overall strategy.
For more information about audience profiling, managing social media, running campaigns or to learn more about social monitoring and analysis, contact the equimedia team.
** Data from Brandwatch, 2016.