Over the past couple of years, Facebook had been leading the way in terms of driving social commerce with the likes of Facebook & Instagram Shops, and seamless integrations with companies likes Shopify.
Other platforms are also joining in, having recognised the benefit it provides ecommerce brands and the subsequent investment into the platforms to drive sales.
Anecdotally, a friend of mine asked for advise on where to purchase a new outfit for a wedding, and another friend replied "I'll send you some Instagram links".
Facebook have termed this a "Discovery Commerce" which is essentially products finding people, rather than the other way round. It's all about the organic discovery of new products through social media feeds, and content which is very much native to the platform and tailored to the user's own feed. Shopping is no longer a specific routine but is now integrated into our daily life.
The social media giant has gone as far as launching a dedicated 'Discovery Commerce' online course to help brands understand and utilise this concept to drive sales.
Twitter, in the US, have launched the Shop Module which enable in-app purchases. This follows a number of commerce related initiatives Twitter have tested such as the Shop button and Product Pages. The Shop Module will be display at the top of a Twitter profile page and will allow brands to showcase key products.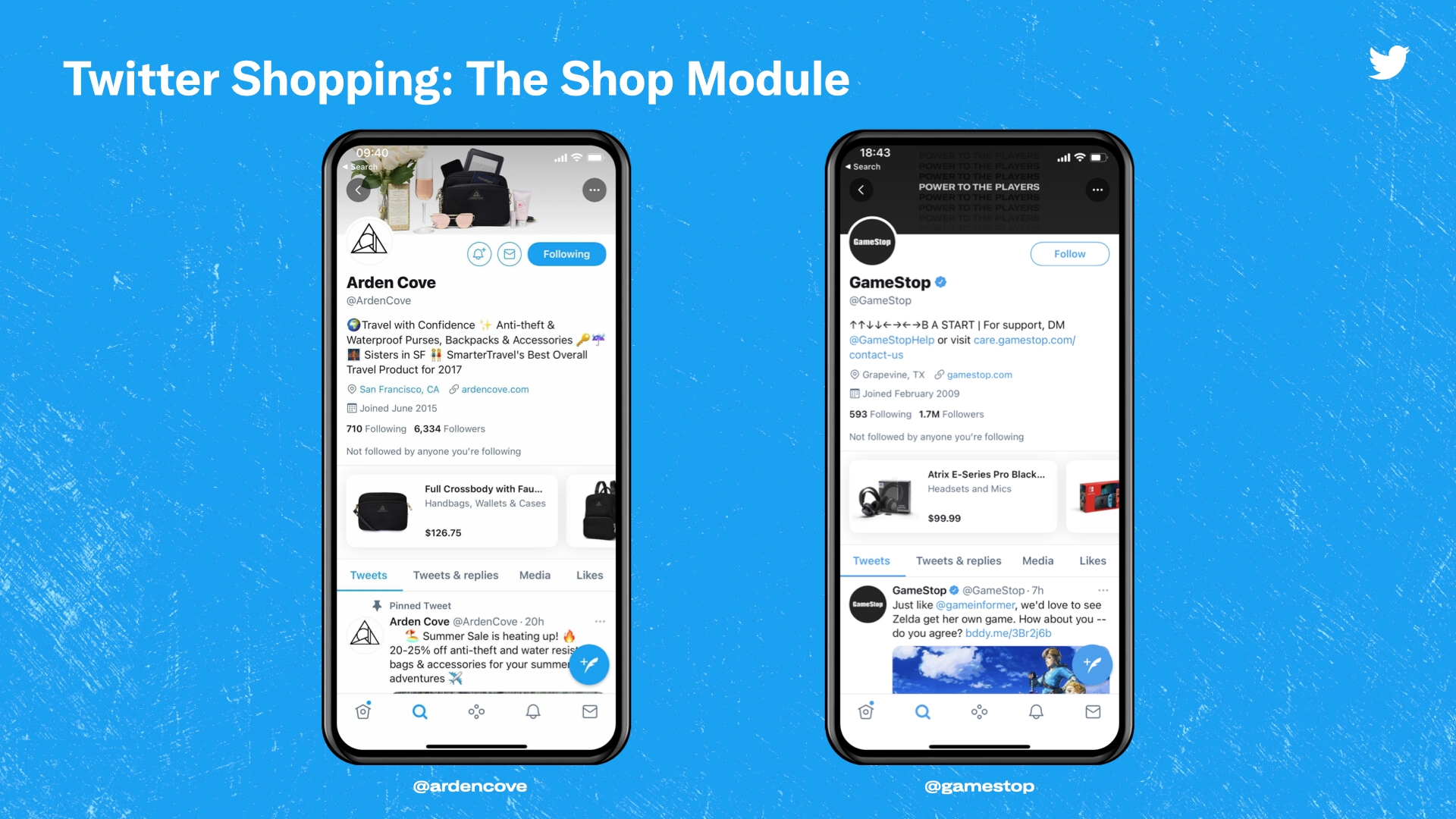 Source: Twitter Blog
Twitter arguably lends itself less to social commerce, when compared to Instagram where the latter's use of high impact formats such as stories and carousels means it's ideal for showcasing products. For me, Twitter is more about inspiring conversation than product discovery and brands can best use it to create a dialogue and build brand engagement. The Shop Module, however, would give ecommerce brands an added space in the social environment to make potential customers aware of products and drive sales within the app.
Pinterest's latest announcement is geared around the introduction of brand partnerships and product tagging, giving creators an opportunity to monetise content. Pinterest talk about their platform being one for inspiration and discovery, and it aligns with the Facebook way of thinking, in that products find people. As a platform, it might still be seen as one which fits the early stages of the purchase journey. But by introducing tools like product tagging, they are looking to develop their lower funnel offering, and encouraging direct sales from the platform.
Source: Pinterest
The other side to this is the brand partnerships which allow creators to monetise content, and will no doubt encourage more content to be posted by influencers in the same we see with other platforms.
Pinterest naturally lends itself more to certain sectors – Home Décor and DIY brands will see a perfect fit with those using Pinterest to fuel their inspiration. The audience could be actively using Pinterest as a shopping list or wish list, and certain brands will no doubt see a huge benefit to tools such as product tagging.
Lastly, not to be left behind, TikTok have also been experimenting with shoppable ads. Last year, they tested live-stream shopping events, and like Facebook, have also partnered with Shopify. The last 18 months have been big for TikTok with growth in usage during lockdown, through to their sponsorship of Euro 2020 this summer. Its clear they have ambitions to want to take on Facebook & Instagram, and further development of their ecommerce offering will put them closer towards that.
And now they have partnered with Publicis Group with a view to demonstrate TikTok's value for product discovery and purchase intent. This 'incubator' programme will see some of Publicis' clients have the opportunity to run commercial campaigns on the platform and gather research and insight on performance.
TikTok is still a relatively new player in this arena, but with its rise over the last 18 months, there is definitely an opportunity for brands to capitalise on the engagement. As with Pinterest, certain sectors may be more likely to benefit – beauty being one of these.
Whilst there are all of these opportunities available to brands, there remain some key considerations which will impact how successful social commerce can be. My tips are:
Know where your audience is and consider how they engage with different platforms to ensure you identify the right KPIs

Make sure your creative is tailored to each platform and have a 'test & learn' approach so you can optimise performance

Tracking is crucial to be able to understand performance – think about going beyond last click so you can look at the role each platform is playing in the purchase journey
Why not have a chat to equimedia and see how we can help you drive revenue through social. Simply fill in the form a member of our team will be in touch.